CSOMA
€ 22.99
12″ Vinyl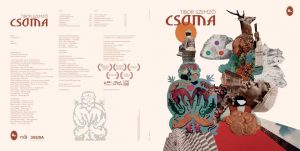 The music of this LP is based on the music of the film A Guest of Life by Tibor Szemző.
Alexander Csoma de Körös set up to research the origin of the Hungarians 200 years ago. During his student years, before he enrolled in college, he and two fellow students vowed to go to Central Asia to discover the origins of their nation. In the first thirty-five years of his life, he spent his humble pilgrimage in Asia traveling and studying with Buddhist priests in Tibet in isolation, and devoted the remaining eleven years of his life to publishing some of the material he had collected in India.
Now on the 200th anniversary, Szemző's Cinematic Opera wishes to pay tribute to Alexandar Csoma. Over the course of two vinyl sides classical and acoustic instruments are mixed with angelic voices, spoken word in Tibetan, Sanskrit, Latin, German, Arab, Bengali, Hungarian, Farsi, & Chinese. Sounding like vintage Tibor Szemzo compositions, vividly performed by the Gordian Knot Company and the Voces Aequales Ensemble.
all rights reserved © Tibor Szemző 2019