Sale!
»K«ENGARAVINGS 12″ vinyl + 19 downloadable films | LIMITED EDITION
€ 65.00
LP + access to 19 FILM downloads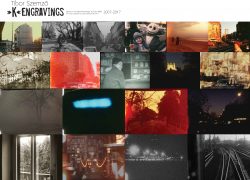 2018
Description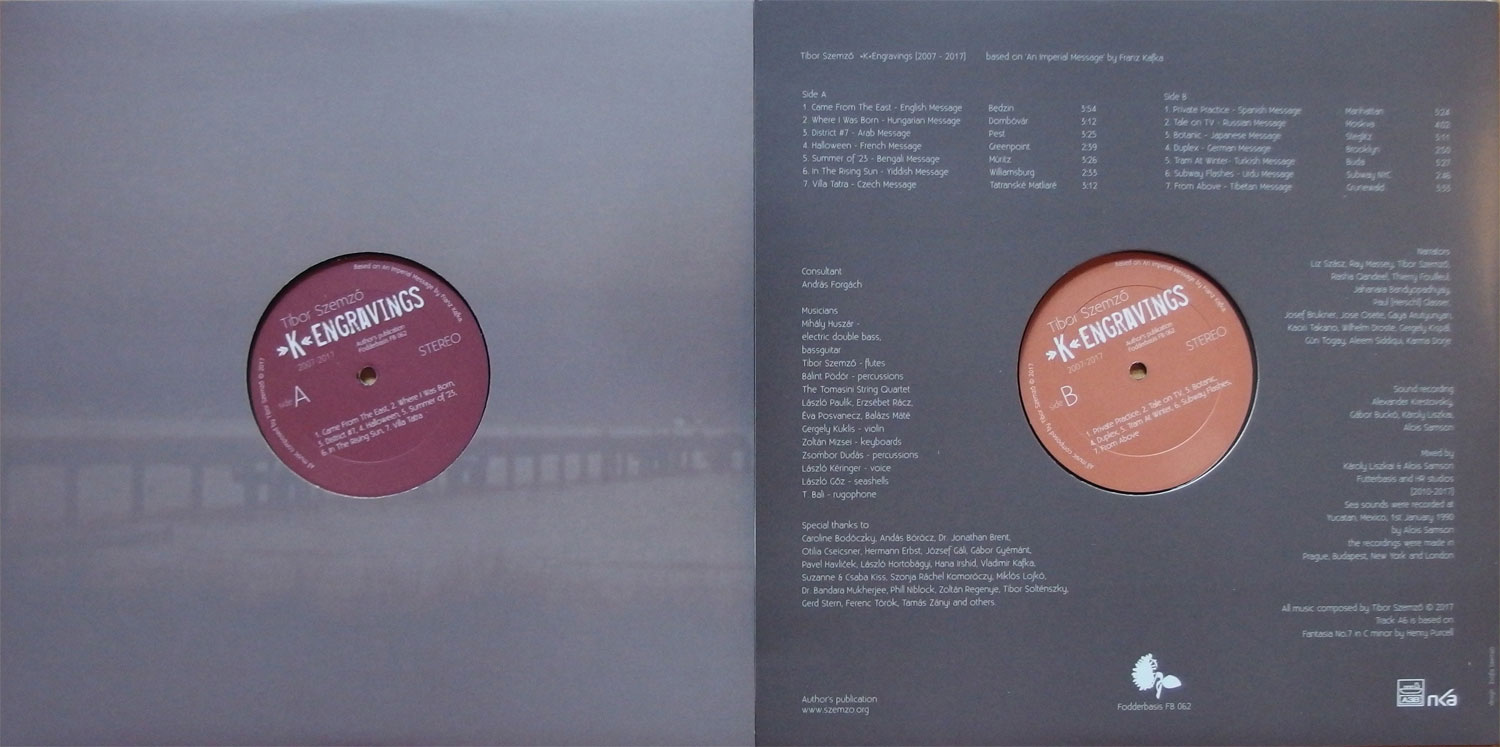 150 SIGNED NUMBERED COPY
14 audio tracks + 19 downloadable films
Tibor Szemző
»K«Engravings [2007 – 2017] Fodderbasis FB 062
© Tibor Szemző 2017
based on 'An Imperial Message' by Franz Kafka
The Emperor—so it is said—has sent you, you in particular, wretched subject, fading shadow, fleeing from the imperial sun into far distant lands, to you alone the Emperor has, on his deathbed, sent a message. He ordered the messenger to kneel down beside his bed and whispered the message into his ear. Such importance was it to him that he had the messenger whisper it back into his ear again. With a nod of his head he confirmed that what had been said was right. And in front of all the spectators of his death—all obstructing walls were being knocked down, and on the flight of steps sweeping high and wide the nobles of the empire are standing in a ring—before all these he dispatched the messenger. The messenger sets off on his journey at once; a strong tireless man, he thrusts out one arm, and then the other to clear a path for himself through the crowd; when he meets resistence, he points to his chest where he bears the sign of the sun and he advances with ease like no other. But the crowd is so vast; its dwelling places are infinite. If only there were an open field, how he would fly, and soon no doubt you would be hearing the glorious beating of his fists on your door. But instead how vain is his progress; he is still only forcing his way through the chambers of the inner palace; he will never get through them; and if he succeeded in that, he would have gained nothing; he must fight his way down the staircase; and if he succeeded in that, he would have gained nothing; there are the courtyards to be crossed and after the courtyards the second palace surrounding them; and the more staircases and courtyards; and yet another palace; and so on for thousands of years; and if at last he should burst through the outermost gate—but never, never could this bee— the capital still lies before him the center of the world, immersed deeply in its own rubble. No one could force his way through here, even with a message from a dead man. But you sit at your window and dream it to yourself — when evening comes.
Side A
track 01. Came From The East – English Message Będzin 3:54
track 02. Where I Was Born – Hungarian Message Dombóvár 3:12
track 03. District #7 – Arab Message Pest 3:25
track 04. Halloween – French Message Greenpoint 2:39
track 05. Summer of '23 – Bengali Message Müritz 3:26
track 06. In The Rising Sun – Yiddish Message Williamsburg 2:33
track 07. Villa Tatra – Czech Message Tatranské Matliaré 3:12
Side B
track 01. Private Practice – Spanish Message Manhattan 3:24
track 02. Tale on TV – Russian Message Moskva 4:02
track 03. Botanic – Japanese Message Steglitz 3:11
track 04. Duplex – German Message Brooklyn 2:50
track 05. Tram At Winter- Turkish Message Buda 3:27
track 06. Subway Flashes – Urdu Message Subway NYC 2:46
track 07. From Above – Tibetan Message Grunewald 3:33
consultant
András Forgách
The Narrators (in order of their appearance):
Liz Szász, Ray Massey, Tibor Szemző, Rasha Qandeel, Thierry Fouilleul, Jahanara Bandyopadhyay, Paul [Herschl] Glasser, Josef Brukner, Jose Osete, Gaya Arutyunyan, Kaori Takano, Wilhelm Droste, Gergely Kispál, Gün Togay, Aleem Siddiqui, Karma Dorje
The Musicians (in order of their appearance):
Mihály Huszár – electric double bass, bassguitar
Tibor Szemző – flutes
Bálint Pödör – percussions
The Tomasini String Quartet
László Paulik, Erzsébet Rácz, Éva Posvanecz, Balázs Máté
Gergely Kuklis – violin
Zoltán Mizsei – keyboards
Zsombor Dudás – percussions
László Kéringer – voice
László Gőz – seashells
T. Bali – rugophone
Sound recording: Alexander Krestovský, Gábor Buckó, Károly Liszkai, Alois Samson
Mixed by Károly Liszkai & Alois Samson
Futterbasis and HR studios [2010-2017]
Sea sounds were recorded at Yucatan, Mexico, 1st January 1990 by Alois Samson
the recordings were made in Prague, Budapest, New York and London
All music composed by Tibor Szemző © 2017
Track A6 is based on Fantasia No.7 in C minor by Henry Purcell
special thanks to
Caroline Bodóczky, Andás Böröcz, Dr. Jonathan Brent, Otilia Cseicsner, Hermann Erbst, József Gáli, Gábor Gyémánt, Pavel Havliček, László Hortobágyi, Hana Irshid, Vladimir Kafka, Suzanne & Csaba Kiss, Szonja Ráchel Komoróczy, Miklós Lojkó, Dr. Bandara Mukherjee, Phill Niblock, Zoltán Regenye, Tibor Solténszky, Gerd Stern Ferenc Török, Tamás Zányi and others
additional filmtracks on http://kengravings.szemzo.org/
S-Bahn – Finnish Message Charlottenburg 02:49
The Sanatorium – Chinese Message Kierling 03:21
Dual Layers – Mongolian Message Berlin/NY 02:20
Bazaar – Hebrew Message Jerusalem 03:26
The Last View – Armenian Message from Prague to up north 03:39
Graphic design: Zsófia Szemző